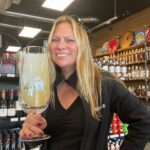 Unveiling the Lighthearted Side of the Spirits Industry
Kim Laderer is the president of Felene Inc.
The Kim Factor is your ultimate guide to uncovering the delightful and whimsical side of the spirits industry. Join me as I explore the fascinating world of distilleries, mixology, and spirited events, delving into captivating stories, hidden gems, and the playful personalities behind your favorite libations. Raise a glass to good times and toast to the lighter side of life with Spirited Adventures!
Recent Blog Posts From The Kim Factor