How We Came to be
felənē® vodka was conceived by the company founder, Tim Kelly while on a road trip through the American heartland in 2016.
After visiting dozens of distilleries and speaking with hundreds of people, he was convinced there was a better way to make vodka.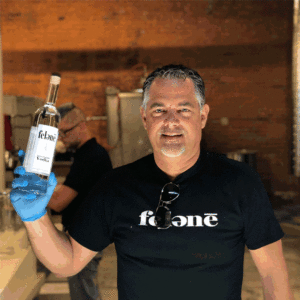 Tim bought his first 16-gallon column still in 2016 and began experimenting with his own style of vodka. After years of testing and refining his recipe and process, felənē® vodka was born.
The origin of the name felənē® has become the subject of a growing legend. It is not written anywhere and only spoken in person by TK at certain felənē® events around the US.
Tim's journey through the American Midwest inspired him to find just the right place to make felənē® vodka. He searched for a place and people that reflected the values of what he created. felənē® vodka has now found its home in the Rockies in Denver, Colorado.
Kelly Family in Colorado
Tim Kelly and the Kelly family have had a decades-long love affair with Colorado where they have made major contributions to culture, entertainment and business. In addition, Tim and his two sons have been avid visitors to Colorado ski country starting in the 1990's.
While holding an executive position at Bloomberg Financial markets in 1994, Tim forged a multi-million dollar publishing and distribution deal with the Denver Post and introduced Bloomberg Personal Magazine to the Sunday Denver Post readership of 450,000 readers.
Years later in 1997, then the Senior Vice President of Global Marketing at Bridge Information Systems, Tim initiated a $22 Million investment into Boulder-based Wall Street On Demand. And now, at Felene Inc, Tim has created one of Colorado's most successful nationally-focused distillery.
In 2016, Tim's nephew, all-star goalie Jack Kelly helped the Denver Outlaws in an improbable comeback story that led to their Major League Lacrosse championship victory.
In June 2020, Kim Laderer joined the Felene team as Director of Marketing and Social Media. Within six months Kim assumed the role of Director of Regional Sales & Marketing for the Northeast America region.
In January 2021, Kim became a co-owner of Felene and was named company President. Her passion, professionalism and dedication is a driving force behind the Felene growth story.
Sustainability and Respect for the Environment
When constructing the  felənē® Denver Distillery, the facility needed to be cleared of internal structures to make way for the distilling, proofing and bottling stations. Instead of demolishing the existing structures and dumping the debris into a landfill, the felənē® team worked to reclaim as much of the existing materials as they could. With this mission in mind the felənē®  distillery was created using 80% of the reclaimed timbers and materials from the existing structure.
Pure Organic Sugarcane Vodka
felənē® vodka is a hand-crafted, American-made vodka using pure, organic, non-GMO, sugar cane. It is designed to be a simple, honest, premium quality spirit that can be enjoyed on its own or accompanied with a favorite mixer. Taken from only the Hearts of the distilling run, there is no higher quality spirit in its class. felənē® American Handcrafted Vodka is the fastest-growing sugar cane vodka.
Like all vodkas (that do not contain additives) felənē® vodka is gluten-free.
4 times distilled and carbon filtered…it's criminally smooth.